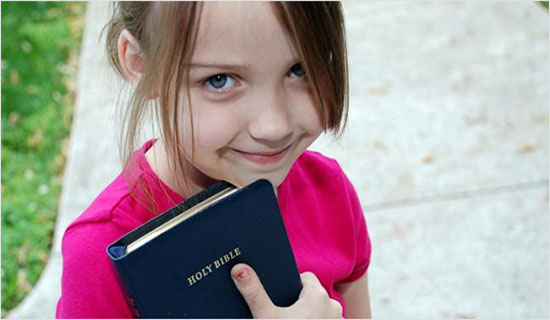 Children's Church


During the Sunday morning worship services at ECUMC, the children are excused from the sanctuary so they can learn about Jesus on levels best suited for them.

Each Sunday, the children meet to pray and share things that concern them....things happening in their young lives; they share the good things and the troubling. We recite the pledge to the American flag, the Christian flag and to the Bible...things many of us learned as children ourselves.

We sing, memorize Bible verses, and have a story and do a craft or game related to that day's story. Children earn small tokens by completing memory verses....with the hope that the Word of God will go with them always.

Some Sundays we have Bible races...two children take their place at the front of the room, Bible in hand, while one of the teachers pulls a scripture out of the bag.

After reading the scripture aloud, there is a shout of "GO" and they are off to the races! The first to find the scripture jumps up and reads it to the rest of the class. As the winner they can remain for the next race and another child is chosen to participate.

For the younger children who are not yet fluent readers, we let them tell us Bible stories. They draw a story from a hat and then share that story with the class.

We help out during the service in the sanctuary on Palm Sunday (by waving branches and singing songs), and on Mother's Day and Father's Day with our own special tribute to our Moms and Dads.

Join us Sunday...we'd love to have you! You'd never guess how much fun you can have while learning about the love of Jesus!



Kids' Club


Kids Club Kids' Club is a fun program for children from ages 3 to the third grade. It is a great way to have lots of fun learning about Jesus by playing games, singing songs, doing crafts, etc. as well as enjoying snacks. Check the monthly church newsletter and church bulletin for meeting times and for the dates and times of special events.



Think Tank


The Think Tank is a group of 4th through 6th graders who get together on Sunday evenings and think about answers to questions about Christianity and Faith.

Sometimes we have food and games but we always have FUN! Some of our road trips have included concerts by Carman, Mark Schultz, Bill Ballenger, Mercy Me and Michael W. Smith.

We had a Dad and kid fishing competition at the home of our counselors; have gone go-karting; and watched movies...all in order to strengthen our Christian fellowship and love for the Lord.

We help with service projects within our church. We are acolytes; we stuff disaster relief bags, box food for the Christmas Circus; and help with the Easter Jubilee.

The group started in 2002 and is under the leadership of Diana Fear...well, she's usually more of a referee...we can get a bit carried away sometimes. Her husband, Bob, is called in to help when we're just having too much fun!

Come join us at 6:00 p.m. in the Rainbow Room, on the 2nd floor. Be prepared to have a really good time and to learn more about Jesus.



Vacation Bible School (VBS)


Vacation Bible School is offered annually. It generally uses stories from the Bible as well as stories that teach Biblical principles in ways kids can relate and enjoy. Whether we are sailing on "God's High Seas" or are on a "Secret Mission for God" the children are sure to have a wonderful Christian adventure, meet new friends, see old friends, and grow in God's love. It is open to all kids between the ages of 3 and sixth grade completed. The children do not need to be members of or currently attending East Columbus United Methodist. Dates and time will be announced in early spring.

For any questions about any of the children's ministries listed above, please contact us here.