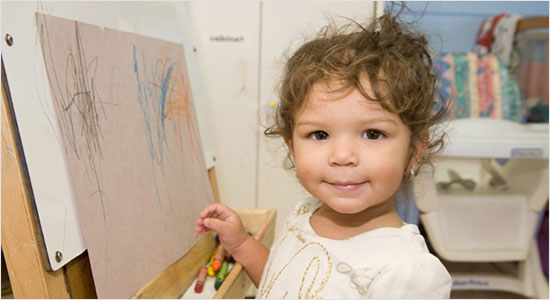 Care Club, a registered childcare ministry, is open year around, Monday through Friday from 7:00 a.m. to 5:30 p.m. It is a "hands on learning" preschool for children ages 2-5 with a school age program in the summer months.

Our mission statement is to provide a loving and nurturing Christian environment; to meet each child's mental, emotional, social and spiritual needs with the help of our Savior, Jesus Christ.

Care Club is participating in the state-wide initiative Paths to Quality (a program meant to assure quality care for all children in Indiana). Our director, Paula Turnbow, has over 25 years of Childcare experience and has her CDA in early childhood education. All of our passionate and well-trained staff are CPR and First aid certified providing our students with a safe and fun environment for learning. We offer full and part-time care for students of all needs.

We provide our students with ample opportunity for growth and development by providing them with a center conducive to open play and social interaction.

Our monthly rotational curriculum calendar is developed in house and provides multiple opportunities for interaction with parents (including a variety of performance and specialty days).

Our large multipurpose building offers the children plenty of space and freedom to explore a variety of centers for exploration. Each of these centers provides the students with a fantastic opportunity to self-discover with the guidance of our qualified staff.

We love to bring the outside in and the inside out (when the opportunity presents itself) expanding the imaginations of our ever-curious students. This is easily achievable with our large enclosed and age-appropriate playground. We encourage a healthy and active lifestyle by providing our students with opportunities for exercise. We would love for you to give us a call if you have any more questions or would like to schedule a visit for your child to come and explore God's world with us.

For more information contact Paula Turnbow, Daycare Director, or call (812) 378-5288.